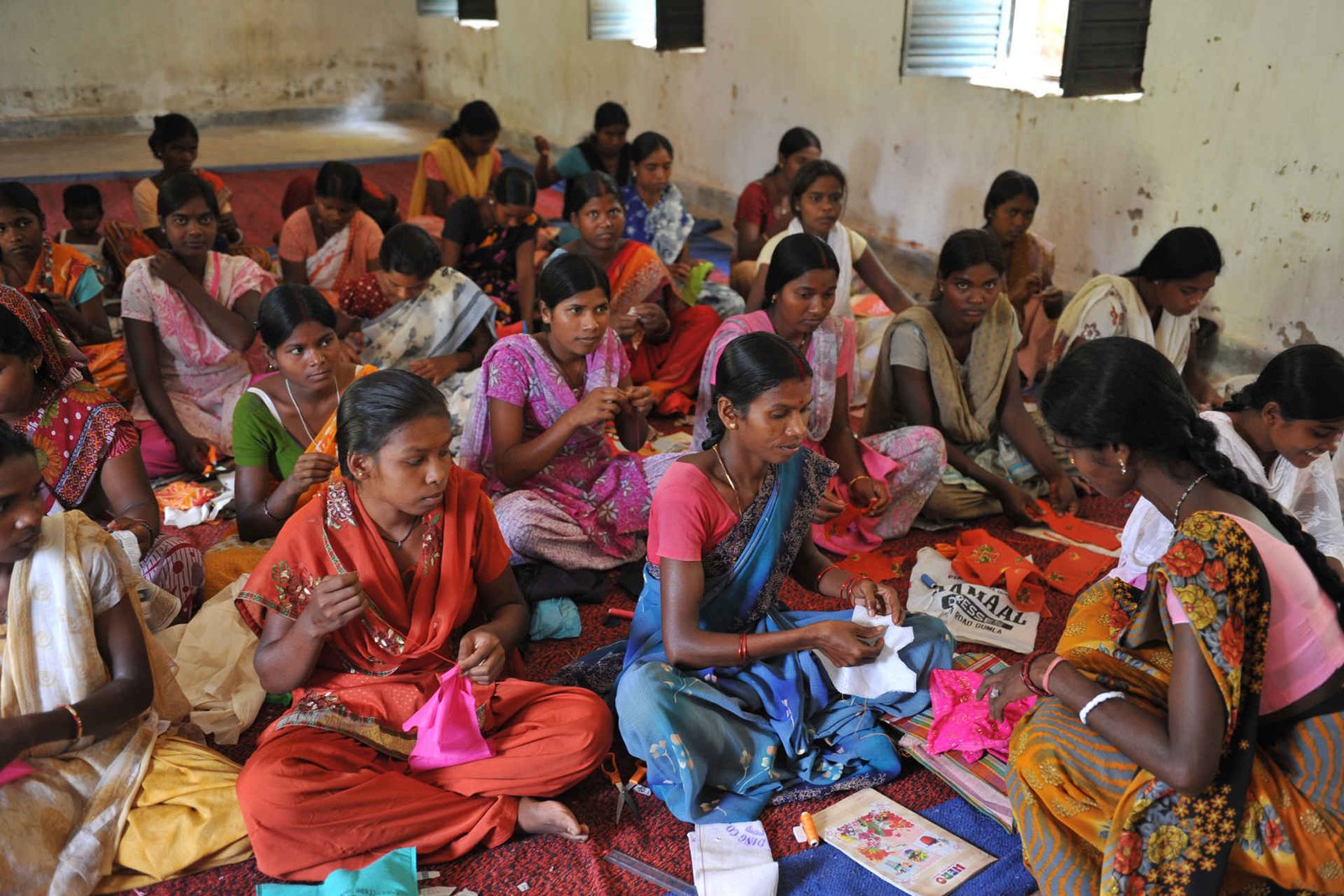 livelihood
As a democratic nation, the government of India's prime role has been to ensure livelihood security to each and every family, so that every citizen of the country could live a secured life. Though Indian Constitution does not yet recognize right to livelihood to its people, it recognizes Right to Life as fundamental right (Section 21), meaning of which is interpreted as right to lead meaningful, complete and dignified life. In consonance with the Constitutional provisions, several government programmes and projects have been planned and executed to ensure livelihood security to the excluded communities.
Some of the prominent government programmes that have provisions for diversifying livelihood options of the vulnerable families include non-discriminatory access to work under the Mahatma Gandhi National Rural Employment Guarantee Schemes (MNREGS). Building capacities of Scheduled Tribe groups and traditional forest dwellers to claim land under the Scheduled Tribes and other Traditional Forest Dwellers (Recognition of Forest Rights) Act, 2006. Ownership of revenue land of the socially excluded groups, ensuring equal access to resources and skills for socially excluded groups, etc. Of late, the issue has been under hot debate among government administrators, legislators and the common people.
How you can help us
Just call at
+91-89867 16934

to make a donation
The main objective of Livelihood Promotion is to provide assistance for skill development / up gradation to the urban poor to enhance their capacity to undertake self-employment as well as access better salaried employment through the trades proposed
Food security bill has been parliaments' ensuring the part of livelihood security of all the vulnerable families in the country. Vikas Bharti Bishunpur holds the view that right to livelihood security of the people can be ensured only when both the government officials who are responsible to provide services under transparent governance and the common citizen of the country could play equally responsible role in discharging their duties and rights in a free and fair social environment Livelihood security of the people has a very positive role in creating conducive social environment to ensure democratic form of governance in true sense of the term. To attain an ideal social environment, livelihood promotional activities always remained to be the major focus of the Vikas Bharti BishunpurSince its inception.
And for that, the organization conducted several activities under different funded and self supported programmes and projects for the promotion of livelihood of the rural families of Jharkhand in general and families belonging to excluded communities residing in remote and inaccessible rural areas including the PTGs. Extensive skill development vocational trainings paved new livelihood opportunities for the unemployed rural youths. It has been found that about 50% of the trained youths under different programmes could occupy some gainful employment or involve in self-employment activities. Details of some of the programmes that provide direct livelihood support to the beneficiary families have been presented below:
The growth of the organization in terms of its presence and reputation took a new high after the formation of the new state of Jharkhand in the year 2000. Vikas Bharti also got the Krishi Vigyan Kendra for Gumla district. Adoption of new agriculture technology became easier in the area due to the presence of KVK Gumla.
In 2003, Vikas Bharti got the opportunity to set up Jan Sikhshan sansthan (JSS) at Ranchi. JSS provides basic literacy to illiterates together with vocational skill to deprived youth. JSS offers vocational training on various cottage Industries, Handicraft works, and Service sectors.
Under the National Horticulture Mission
Vikas Bharti is trying to do the following interventions towards technology introduction and promotion:
 Promote R&D of technologies for production, post-harvest management and processing.
 Diversification, from traditional crops to plantations, orchards, vineyards, flower and vegetable gardens.
 Extension of appropriate technology to the farmers for high-tech horticulture cultivation and precision farming and
  Assist setting up of post harvest facilities. .
Ajivika - An initiative for Livelihood
The self-sponsored Ajivika programme was started in the year in 2007 to provide alternative livelihood opportunities to the land-poor farming families through promotion of horticulture gardens in their backyards and/or barren lands adjacent to their homestead lands. The programme covered 37 villages from 7 GPs under Bishunpur Block of Gumla district. Under this programme, there is provision for forming women SHGs and provide vocational trainings to the SHG members on horticulture (fruits and vegetable cultivation), Vermi-composting, plant breeding, stitching and knitting, etc. The trained women members were provided plants of some fruits bearing trees and some vegetable seeds to promote kitchen gardening. During the reporting year, 709 families were benefited under this programme. Out of the total beneficiaries 696 were from Scheduled Tribes, 10 from Scheduled Castes, 2 from OBC and rest one from General Category.
Encouraging People for Herbal Medicines
Self-sponsored Gandhamadan Garden Balatu Kendra was set up in the year 2006. Objective of developing this garden was to promote a model Agro-production centre for providing training through demonstration to the local farmers and labourers on gardening, production of horticulture crops fruits and vegetables, production of manure through vermin-composting, nursery raising, production of vegetable seeds, fire woods, etc